12 Insider Tips For Visiting Uffizi Gallery in Florence
Table of Contents
Top 12 Uffizi Gallery Tips Travel Tips & Hacks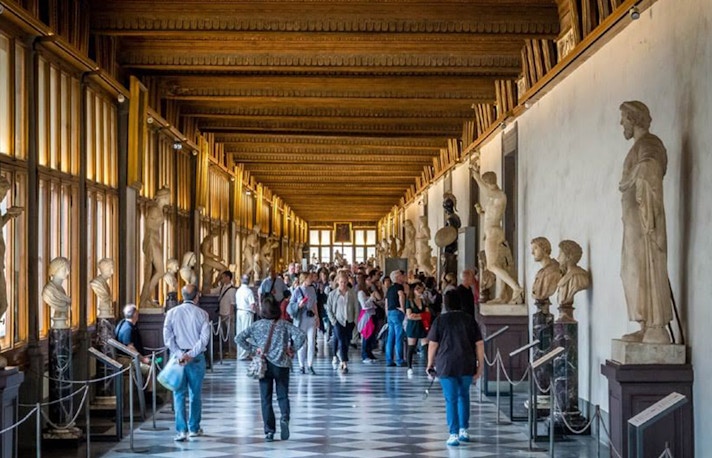 1. Book Uffizi Gallery Tickets in Advance
Book Uffizi Gallery tickets in advance to avoid waiting in line at the attraction. Uffizi Gallery is one of the most famous museums in Italy and attracts thousands of tourists every day. You will find a long queue at the ticket counter and there is always the risk of tickets running out. To avoid the hassle, buy your Uffizi Gallery online tickets in advance. 
Book Uffizi Tickets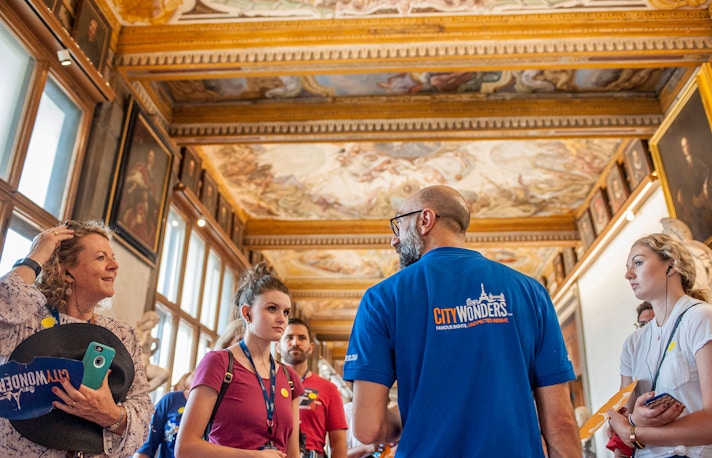 2. Book a Guided Tour to Uffizi Gallery
Although you can explore the museum on your own, it is a more insightful and interesting experience when you are guided by an expert. An expert guide, fluent in the language of your choosing, will accompany you and ensure that you get the chance to admire all the important works inside the gallery. The guide will share interesting tibits about  the history of the museum, the Medici family and the various artworks and the artists who made them.
Uffizi Gallery Guided Tour Options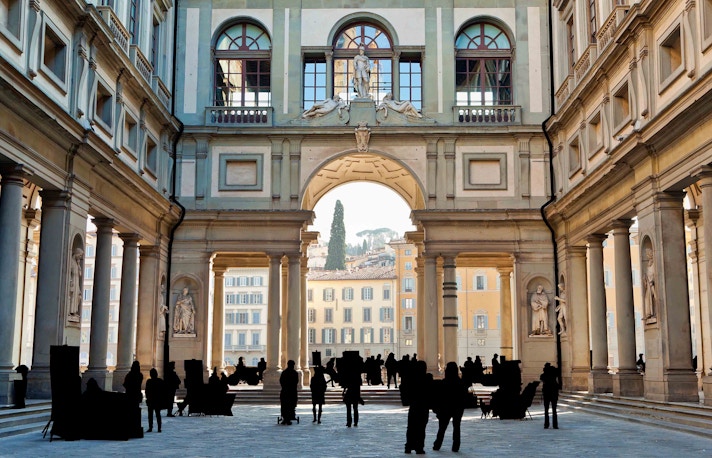 3. Choose a Weekday Over the Weekend
Uffizi Gallery Museum gets busier on weekends compared to weekdays. The museum opens early in the morning so plan a visit during the morning hours on a weekday to avoid the crowd. The hours between 12 noon and 3 PM tends to see the maximum number of guests, which means that you might not be able to closely admire the artworks. Arrive at least 30 minutes before the museum opens so you can explore the exhibitions peacefully. 
Best Time to Visit Uffizi Gallery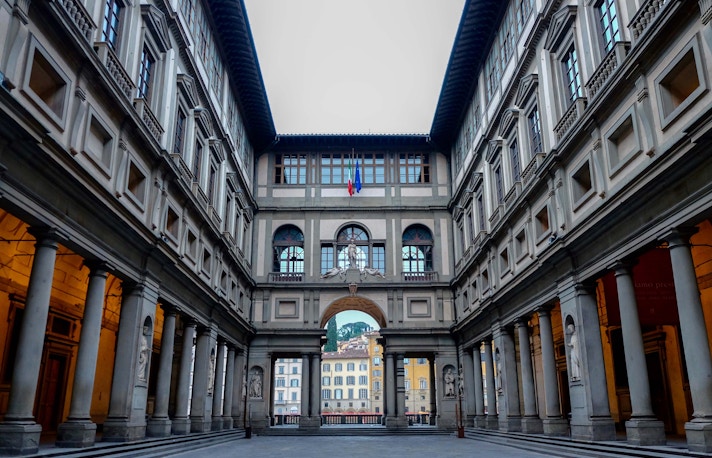 4. Visit During Off-season
The best time to visit Uffizi Gallery is from November to February, which marks the off-season. During the peak season, Italy attracts tourists from all over the world. This not only means that the cost of visiting will be higher, but also that every attraction will be crowded and swarming with tourists. Planning a visit to the Uffizi Gallery museum during the off-season will allow you save some bucks while having a more relaxed experience.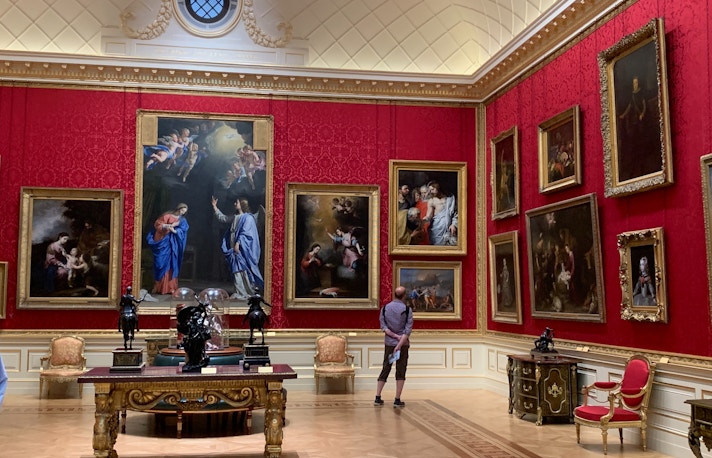 5. Plan a Half-day Visit
The Uffizi Gallery museum displays a huge collection of paintings and sculptures across 101 rooms spread over two whole floors. To explore the Uffizi at a leisurely pace, you need to allot at least 3-4 hours for your visit. But if you plan to explore each work, or spend adequate amount of time at the highlight works or the one that capture your attention, you must dedicate half a day for yout visit.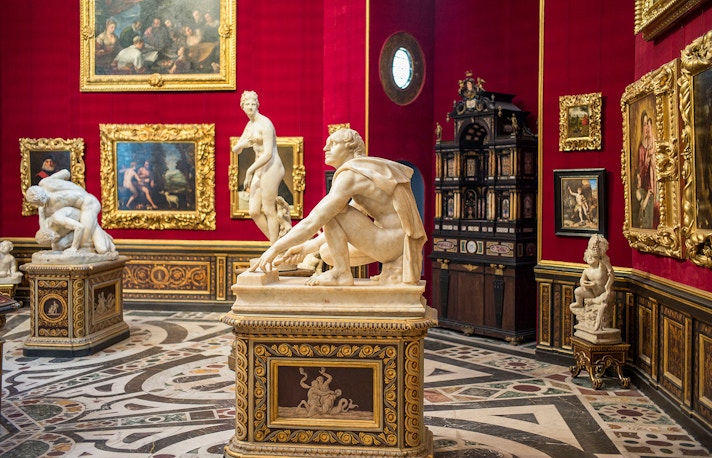 6. Enter the Museum for Free
Traveling on a shoe-string budget does not mean you have to miss out on the highlights of the destination. You can enjoy free entry into the Uffizi Gallery on the first Sunday of each month. The only downside? Free entry means bigger crowd. The first Sunday is usually the busiest as the museum receives hundreds of visitors. This not only means having to navigate through the rush inside the gallery but also having to deal with the queue line, which could takes a few hours.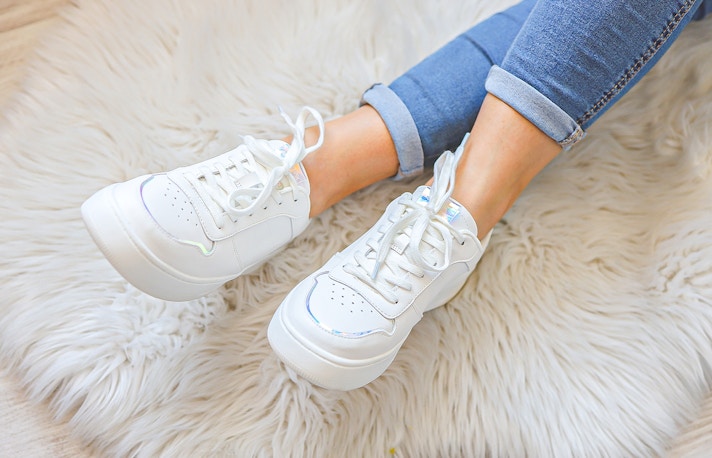 7. Wear Comfortable Shoes
Following the expansion in 2006, the Uffizi Gallery's exhibition space was expanded by 6,000 sq.m. The gallery now has 13,000 sq.m of exhibition space. Exploring the museum and all its artworks will require a lot of walking. Make it a point to wear comfortable shoes so you can enjoy your visit without having to worry about nursing a shoebite for the rest of your trip. 
8. Use Public Transportation
Save some money and rely on the city's public transportation to reach Uffizi Gallery. Since the gallery is located at the heart of Florence, you will not need a lot of time to reach the museum from any attraction in the city. You can simply board the metro or bus to reach Uffizi Gallery. You can also choose Hop-on Hop-off bus tours to get around the city and visit its most important landmarks with ease.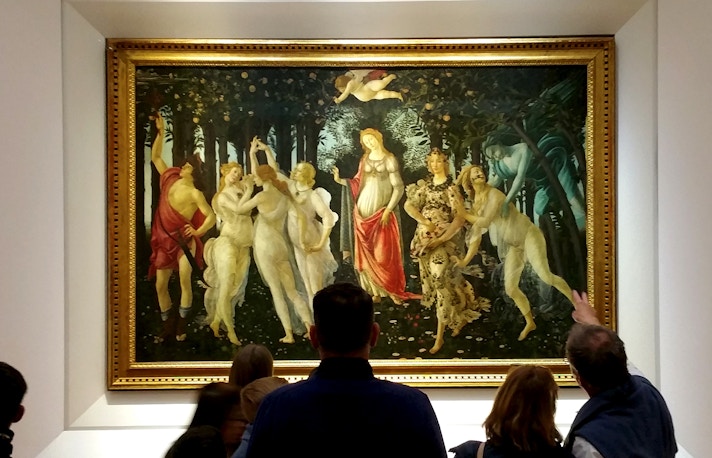 9. Explore the Museum as a Family
If you are an art enthusiast traveling with kids, fret not. Your children will also be able to enjoy Uffizi at its best as you bask in the glory of the Uffizi museum. Children under 18 years of age are free to enter the museum with family. Additionally, the #UffiziKids initiative offers itineraries and activities designed to engage young visitors. You simply have to spot staff members wearing a pin featuring the UffiziKids logo.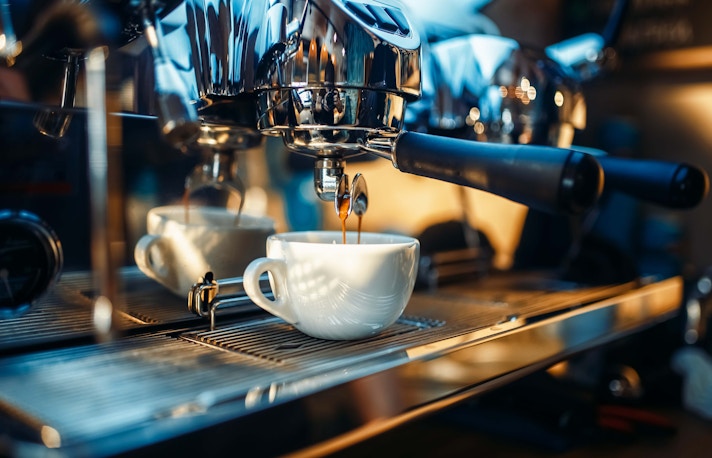 10. Enjoy Coffee with a View
Exploring two floors worth of art can be a tiring, albeit insightful experience. But, you can rest your feet and recuperate without having to head very far. Visit the cafeteria located at the end of the galleries on the first floor. Admire the panoramic view from the top while enjoying a cup of cappuccino. Take advantage of the free Wi-Fi at the cafe available for all visitors.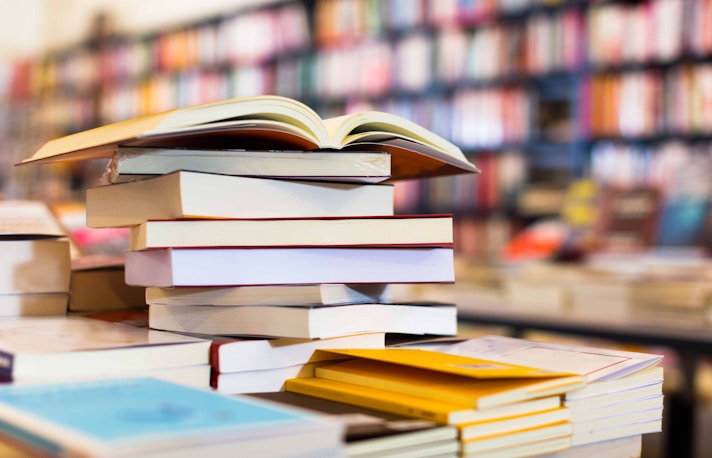 11. Shop at the Uffizi bookshop
Buy some books or art as souvenirs for family and friends from the Uffizi bookshop. The Uffizi bookshop is filled with a wide collection of art books, photography, children's books, posters, souvenirs, and local handicrafts. The bookstore is the perfect place for bookworms or those looking for some memorabilia to take back home.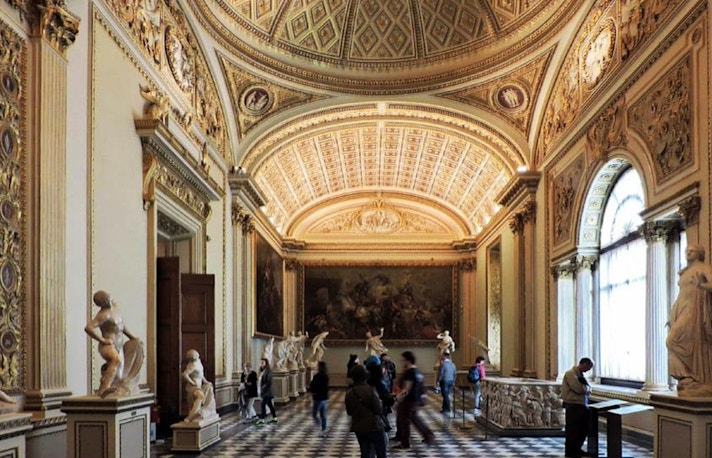 12. Behave Appropriately
The Uffizi Gallery expects that visitors maintain the decorum of the museum and behave in an appropriate fashion. This means that visitors are expected to dress in a manner suited to the formal setting of the museum. They are also expected to avoid doing anything that damages the museum or its artworks. Visitors are not allowed to eat, drink, or smoke inside the museum, and neither are they allowed to carry weapons or knives. Photography is allowed inside the gallery provided they are for personal or study purposes and are taken without flash.
Frequently Asked Questions About Uffizi Tips & Hacks
Q. When should I visit Uffizi Gallery?
Q. What are some helpful tips I should know before visiting Uffizi Gallery?
A. Book Uffizi Gallery tickets in advance to ensure that tickets don't run out on the day of your visit. Plan your visit for the morning hours, and wear comfortable shoes so you can explore the museum to your heart's content.
Q. What facilities are present at Uffizi Gallery?
A. Cloakroom, toilets, cafeteria, and wheelchair accessibility facilities are available at Uffizi Gallery.
Q. Are there any restaurants at Uffizi Gallery?
A. Yes. A cafeteria on the terrace of the second floor with a panoramic view is available at Uffizi Gallery. 
Q. Can I shop at Uffizi Gallery?
A. Yes. There is a bookshop at Uffizi Gallery filled with books, gallery-inspired gadgets, and art history books for visitors.
Q. What are some must-see highlights at Uffizi Gallery?
A. Botticelli's famed Birth of Venus and Primavera in Botticelli room, Ognissanti Madonna by Giotto, Annunciation by Leonardo Da Vinci, Annunciation by Simone Martini, and Lippo Memmi are some must-see highlights at Uffizi Gallery.
Q. How much does a ticket to visit Uffizi Gallery cost?
Q. What are some helpful tips to know about visiting Uffizi Gallery if I'm traveling with my family?
Q. Is there a restroom at Uffizi Gallery?
A. Yes. There are  restrooms at every floor of the Uffizi Gallery available for visitors. 
Q. Should I go on a Uffizi Gallery guided tour?
A. Yes, if you want to get the best of Uffizi Gallery and learn about the history and facts of the artworks and artists, a guided tour to Uffizi Gallery is advisable.
Q. Should I get Uffizi Gallery skip the line tickets?
Q. What other landmarks can I see around Uffizi Gallery?
A. Museo Galileo, Loggia Dei Lanzi, Ponte Vecchio, and Palazzo Vecchio are some places to visit near Uffizi Gallery.
Q. Do I need ID proof to enter Uffizi Gallery?
A. Yes, you will require ID proof such as passport, driving license, etc to enter Uffizi Gallery. 
Q. What kind of ID should I carry to Uffizi Gallery?
A. You can carry a passport or driving license to enter Uffizi Gallery.
Q. What should I wear to the Uffizi Gallery?
A. It is advised to wear comfortable clothes and shoes while visiting Uffizi Gallery. Visitors are expected to wear clothing that suits the formal setting of the museum. Avoid skimpy outfits, wedding dresses, period costumes or any other costumes that would be deemed inappropriate. 
More Reads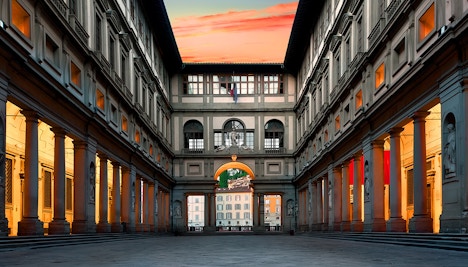 Inside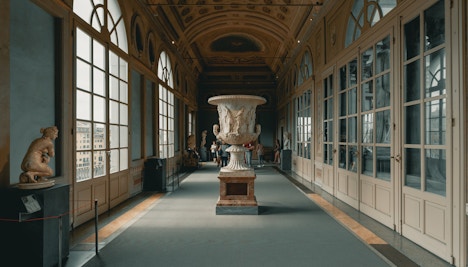 Exhibitions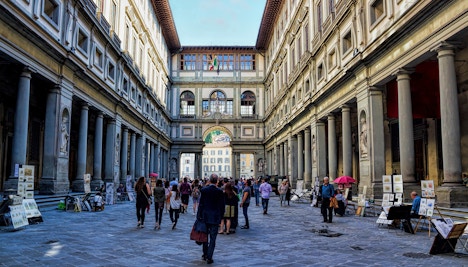 About