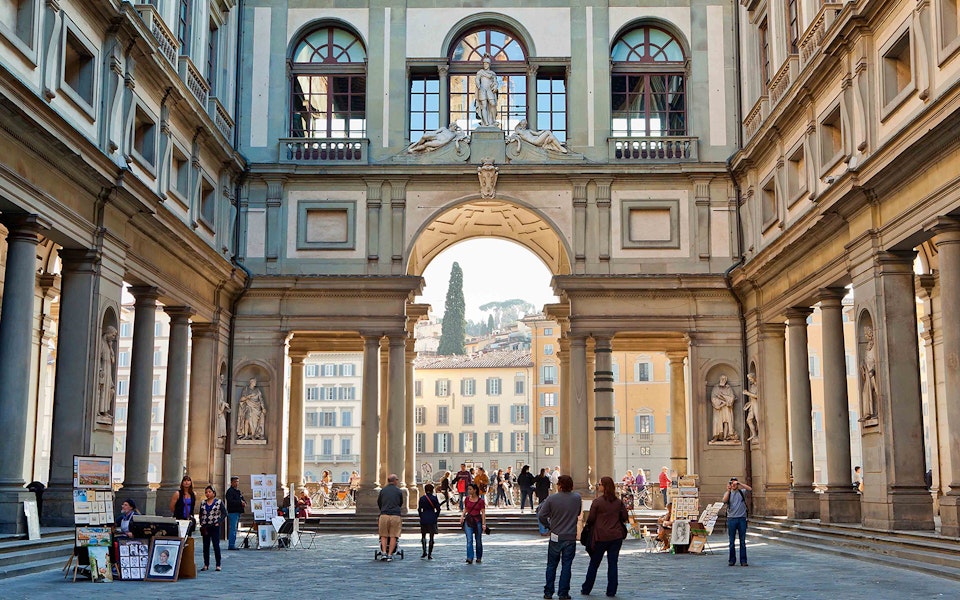 History Of The Uffizi Gallery
The House of Medici put Florence on the world map - a wealthy banking family that made the city a centre of power and finance. Rising to power in the 13th century, the Medici family helmed by Cosimo de' Medici was a patron of several artists and sculptures and amassed a wealth of artwork. They started housing the artwork in their Uffizi building, which later on became a museum after the end of the Medici family. This collection includes extraordinary works including paintings and sculptures dating from the Middle Ages to the Renaissance.
The artists displayed include Giotto, Simone Martini, Piero della Francesca, Beato Angelico, Mantegna, Correggio, Leonardo, Raffaello, Michelangelo, Filippo Lippi, Botticelli, and Caravaggio. Today, the Uffizi Gallery is one of the most visited art galleries in the world and over 2 million tourists visit it each year. Here is a guide on how to make the most of your visit to the Uffizi Gallery, what to see, how to explore and how to skip the line.
History of the Uffizi Gallery
The Uffizi Gallery was commissioned in 1560 by Cosimo I de Medici, the first Grand Duke of Tuscany to house the administrative and legislative offices of Florence. The word 'Uffizi' itself means Offices and the building was designed as a U-Shaped structure, resembling a streetscape. The long corridor ends at the River Arno where you can view the Ponte Vecchio through a screen. The architect of the building was Giorgio Vasari, who also designed a unique corridor that would connect Uffizi to the Pitti Palace over the Ponte Vecchio.
Right from 1581, the top floor was used to house the artworks and collections of the family. The collection kept growing and the top floor was divided into rooms to store the artworks properly. In 1743, the last Medici, Anna Maria Luisa de Medici signed the Family Pact which bequeathed everything to the state of Tuscany and guaranteed that none of the artwork would leave Florence. The museum as we know it was opened in 1769, although a few works have been shifted to other museums in Florence. The New Uffizi Project made sure that new rooms were added and more collections were on display.
Select Your Tickets