Exhibitions at Uffizi Gallery | Current & Upcoming Shows
Contents
The Uffizi Gallery in Florence is renowned for its incredible art collections and exhibitions. With over 45 rooms of artwork, the Uffizi Gallery exhibitions offers a unique opportunity to explore the works of some of the greatest artists from all around the world. Whether you choose to visit Uffizi's permanent collection or one of its many rotating special exhibitions, you are certain to be inspired by this amazing gallery's offerings.
Why Attend Uffizi Gallery Exhibitions?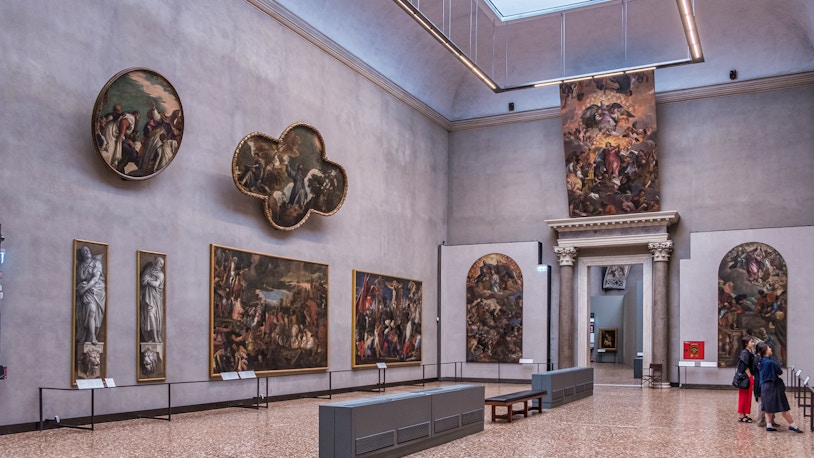 Artistic Treasures: Explore renowned masterpieces by artists like da Vinci, Michelangelo, and Botticelli.
Cultural Legacy: Immerse in history at one of the world's oldest art museums, housed in a historic architectural gem.
Learning Opportunity: Gain insights into art history, techniques, and context through curated exhibitions.
Aesthetic Delight: Enjoy diverse artworks catering to varied tastes, from serene beauty to dynamic energy.
Personal Enrichment: Connect emotionally and introspectively with human expression across time.
Vivid Experience: Witness the scale, texture, and details of artworks up close and in person.
Cultural Contribution: Support preservation and share in the cultural legacy for future generations.
Uffizi Gallery Exhibitions
Upcoming Exhibitions
Journals. Culture in Italy in the Early 1900s
Dates: 15 June - 17 September 2023
Location: Uffizi Gallery, Ground Floor Rooms
Curated by: Giovanna Lambroni, Simona Mammana, Chiara Toti
Explore the intellectual fervor of Italy's early 1900s through a vivid exhibition of influential journals. From incisive invectives of "Leonardo" to the avant-garde visions of "Lacerba," explore over 250 pieces capturing an era ablaze with ideas. Curated by experts Lambroni, Mammana, Toti, this showcase represents an era where independent thought and critical perspectives thrived.
The Ceramics of Montelupo and the Uffizi. A Gallery of Comparisons
Dates: From 1 April, 2023 to 1 October, 2023
Location: Montelupo Fiorentino, Uffizi Diffusi Scheme
Curated by: Fondazione CR Firenze and Gallerie degli Uffizi
Unearth the historical significance of Montelupo's ceramics dating back to the 13th century. This exhibition, part of the Piccoli Grandi Musei and Uffizi Diffusi initiatives, showcases the rich heritage of this pottery center. From plates with papal arms to everyday household ceramics, witness the close ties between Montelupo's workshops and Florence's rulers. Explore excavated ceramics reflecting daily life over centuries,
Filippo Lippi in the Valdelsa
Dates: From 22 April to 29 October, 2023
Location: Montespertoli, Museo d'Arte Sacra di San Piero in Mercato
Curated by: Fondazione CR Firenze and Gallerie degli Uffizi
Discover the captivating artistry of Fra Filippo Lippi (c. 1406 - 1469) at the Museo d'Arte Sacra di San Piero in Mercato. This exhibition, part of the 'Lands of the Uffizi' initiative, features the exceptional "Barbadori Predella" on loan from the Gallerie degli Uffizi. Immerse in Lippi's nuanced expressions across narrative and devotional works, deepening your understanding of this Renaissance master.
View Uffizi Exhibitions Virtually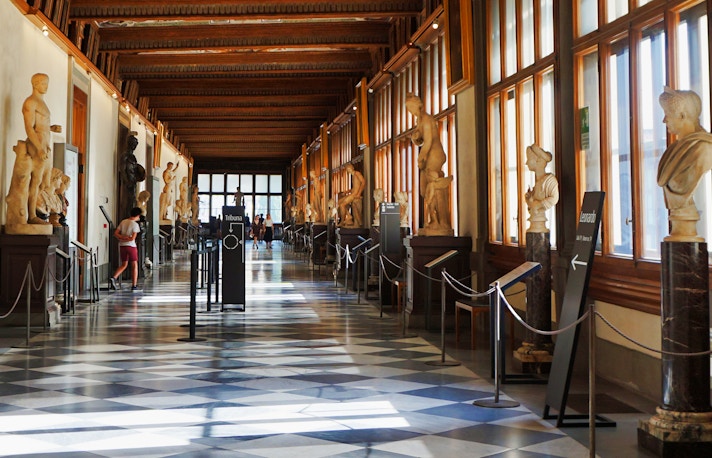 Uffizi Exhibitions | Video Stories
Since the Uffizi Gallery has an array of masterpieces by famous artists lined up under one roof, the gallery has a small archive of the footage arranged of the temporary exhibitions that are conducted with the Uffizi Galleries' museums. If you are unable to make it to the museum's exhibitions, you can admire various iconic pieces of artwork, right from the comfort of your couch.
A few exhibitions that can be viewed include The famous fresco by Andrea del Castagno depicting Dante Alighieri in San Godenzo, Tommaso Mozzati - Alonso Berruguete and the art of drawing: from Castile to Rome, from Florence to Spain and Spain and Italy in dialogue in the 16th-century Europe.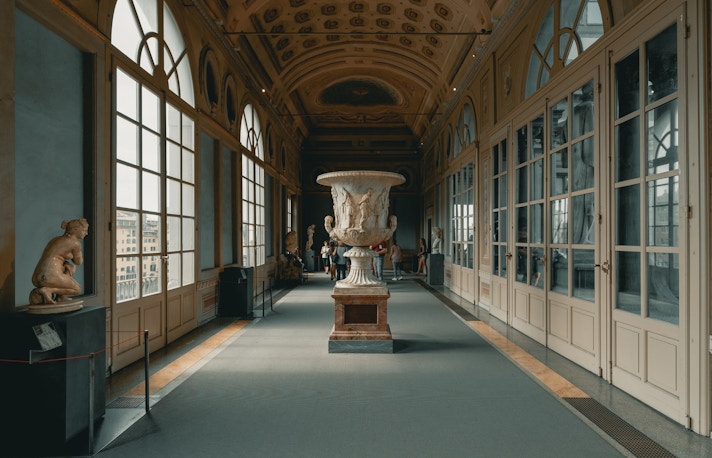 Online Uffizi Exhibitions
Uffizi has numerous collections of art produced by world-class artists that are definitely worth witnessing. Discover these iconic masterpieces of the Uffizi collection and learn all about their history, traveling through captivating descriptions and HD images.
Explore Uffizi's new halls and get a 360° virtual tour of the enormous art collection that is housed at the gallery. Get awestruck by the Venetian painting of the 1500s, one of the most important in the world. You can also check out many other significant artworks online such as The Portinari Triptych by Hugo van der Goes, On Being Present vol.II, Non per foco ma per divin'arte, to name a few.
Book Uffizi Gallery Tickets
Frequently Asked Questions About Uffizi Exhibitions
Q. What exhibitions are currently showing at the Uffizi Gallery in Florence??
A. Currently, there are no exhibitions that are shown at the Uffizi Gallery. As part of the Terre degli Uffizi, a project by the Uffizi Gallery aimed at promoting the artistic and cultural heritage of Tuscany, the Triptych with Stories from the Life of Lazarus, Martha, and Mary is being showcased at the Bosco ai Frati.
Q. Do I need to buy separate tickets to view the various exhibitions at Uffizi Gallery?
A. No, you are not required to buy separate tickets for various exhibitions that are being held at the Uffizi Gallery. You can attend it with the Uffizi ticket.
Q. How can I view the exhibitions at Uffizi Gallery?
A. Presently, if you wish to view the exhibitions from the comfort of your home, you have an option of viewing the exhibitions being held at the Uffizi Gallery online, through HD images and admire some of the masterpieces housed at the museum.
Q. Do I need to book my tickets in advance to view the Uffizi exhibitions?
A. Unless you wish to spend your time waiting in long queues, we recommend you book your tickets well in advance in order to skip the chaotic rush at the entry gate.
Q. How many exhibitions are held at Uffizi Gallery annually?
A.  The Uffizi Gallery organises at least 10 exhibitions or more on an annual basis. 
Q. When did Uffizi host its first exhibition?
A. The Uffizi Gallery held the 'Art for a Year' program, which was the first exhibition dedicated solely to the work of Gerrit van Honthorst, Italy's Dutch Golden Age painter.
Q. What are some of the prominent artworks that are on display at Uffizi Gallery?
A. Prominent artworks at the Uffizi Gallery include Botticelli's Birth of Venus, Annunciation by Simone Martini and Lippo Memmi, Gentile da Fabriano's Adoration of the Magi, Portraits of the Duke and Duchess of Urbino by Piero della Francesca, Domenico Veneziano's Virgin and Child and Cimabue's Madonna Enthroned.
Q. What is the Uffizi Gallery famous for?
A. Uffizi Gallery is a space that houses one of the world's most popular collections of paintings under one roof and occupies the first and second floors of the building completed with art. It is famous worldwide for its tremendous collections of ancient sculptures and paintings from the Middle Ages to the Modern era.