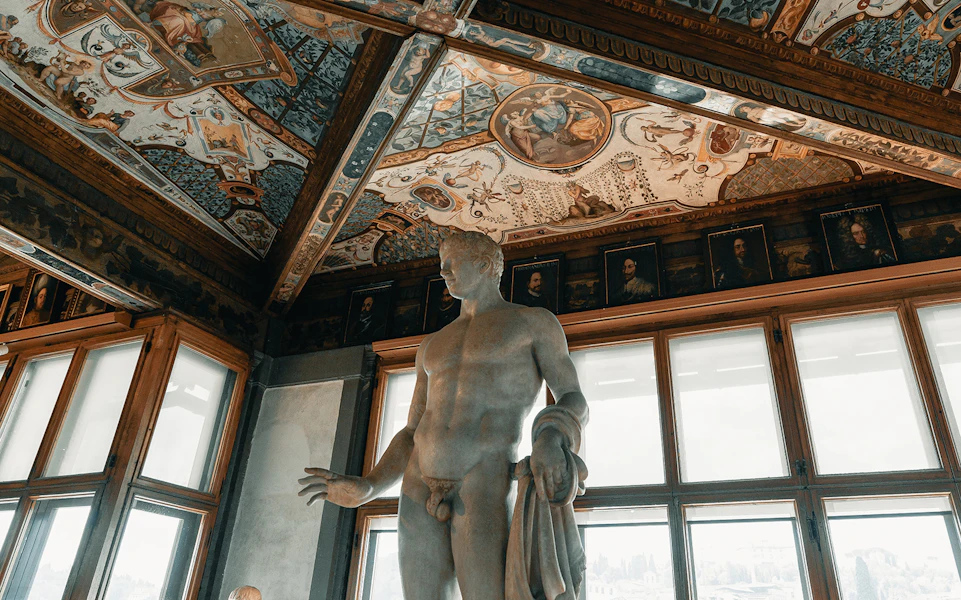 Plan Your Visit to Uffizi Gallery
One of the most celebrated art museums in all of Italy, the Uffizi Gallery is widely known for its vast collection. Spread across three floors this museum has over a hundred rooms filled to the brim with stunning art. It is home to works of art by artists like Sandro Botticelli, Titian, and Artemisia Gentileschi, Roman sculptures, and prints & drawings. To visit Uffizi Gallery is to be transported back in time to discover a magical wonderland where art reigns supreme.
Uffizi Gallery Timings
The Uffizi Gallery opening hours are 8:15 AM to 06:50 PM from Tuesday to Sunday.
Uffizi Gallery Location
Uffizi Gallery Address: Piazzale degli Uffizi 6, 50122, Florence, Italy.

Directions
You can get to Uffizi Gallery by train, bus, car, or taxi.
Bus: The nearest bus station is Galleria Degli Uffizi Bus Stop.
Train: The nearest train station is Santa Maria Novella (SMN) Station.
Parking: There are many paid parking options around the Gallery, such as the Garage Palazzo Vecchio.
Getting to Uffizi Gallery
Uffizi Gallery Entrances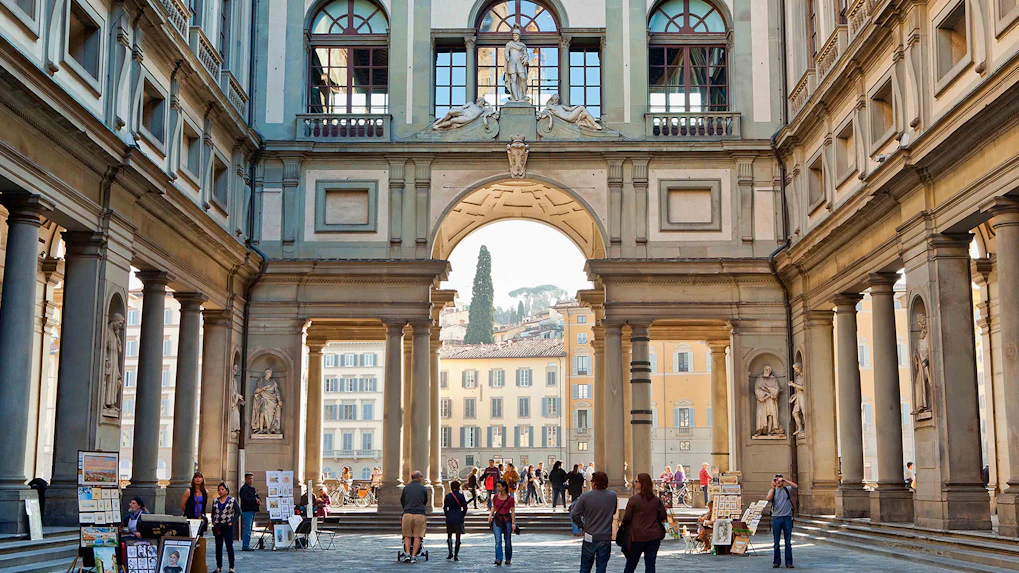 There are two main entrances to choose from:
Door Number 2: This is the main entrance. Those that I want to purchase the ticket and the venue will have to enter from the shop.
Door Number 3: This is where those with pre-booked tickets can pick them up and directly enter the museum.
Door Number 1 is dedicated to only those with prior reservations or group entries.
Uffizi Gallery Entrances
Services and Amenities at the Uffizi Gallery
ATM: Find the ATM on the ground floor, at the exit of the Gallery.
Baby station: There is a baby pit-stop near the cafeteria that is open till 6 PM. For changing stations, you can use the main toilets at the entrance or the toilets on Lanzi staircase's mezzanine.
Bookshops: There is a bookshop at the entrance, one at exit on the first floor, and one on the ground floor. Note is that due to COVID safety measures some of these may be closed.
Cafeteria: Enjoy a cup of coffee and the date is on the second floor with panoramic views of Florence.
Cloakroom: It is free to keep your things in the cloakroom just past the entrance such as umbrellas and backpacks. For larger objects, use the cloakroom close to the Ticket Office.
Elevators: You will find elevators at the entrance and exit of the venue.
Post Office: the post office is located at the exit of the Gallery on the ground floor.
Toilets: Toilets are available on every floor and all toilets are open to visitors with disabilities.
Accessibility at Uffizi Gallery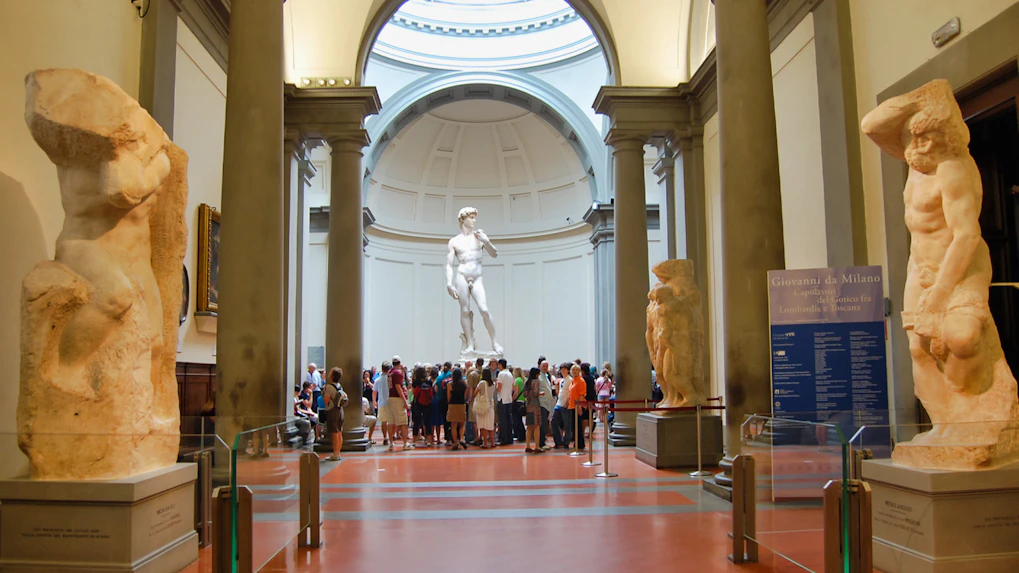 All toilets can be used by visitors with disabilities. There is a toilet on the second floor only for visitors with disabilities.
There is an access ramp in via della Ninna. When inside, the accessible elevators lead to the Gallery.
The accessible entrance is at the Vasari Auditorium.
Visitors with disabilities are entitled to free priority entry for themselves and their certified companions.
Visitors can use wheelchairs free of charge.
Guide dogs are allowed entry, provided advance notice is provided.
Uffizi Gallery Events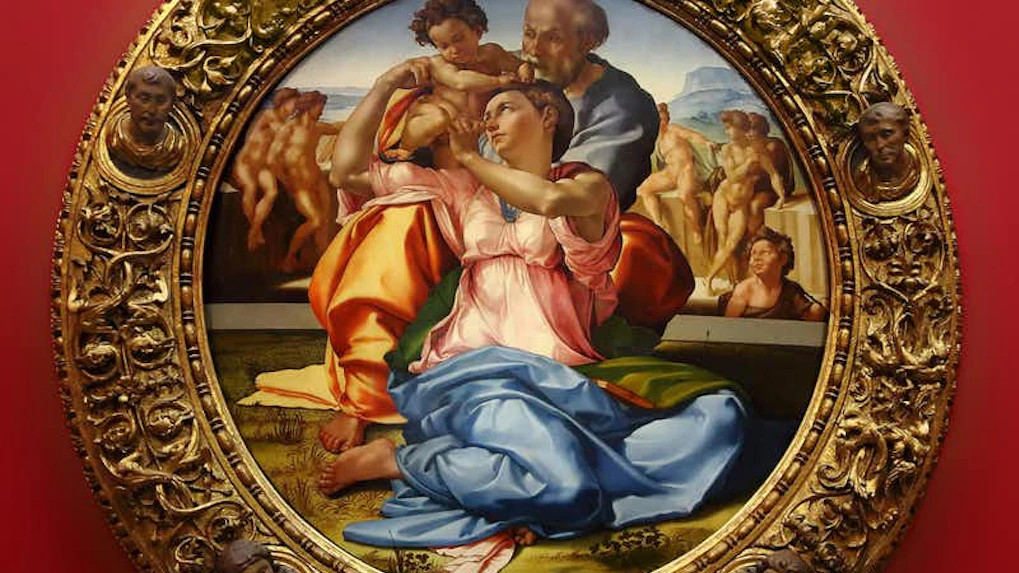 Uffizi Gallery hosts events online and at the venue:
Empresses, matrons, freedwomen (November 3, 2020 to June 13, 2021)
Held at Uffizi Gallery, this exhibition sheds light on the lives of Roman women as the Roman Empire started to grow. With artefacts on loan from National Archaeological Museum of Florence and National Library of Florence, this exhibit is a must-visit!
Uffizi on Air (Every Monday at 1:30 PM)
This exhibit is live streamed on the galleries Facebook page. Every Monday, a curator or expert takes the audience on a journey as they describe particular work of art or give us insight into a certain period of art.
Uffizi Gallery Events
Visitor Rules
Voice must be at a moderate level. Please do not shout or speak loudly in the premises as it disturbs other guests.
Please wear appropriate clothing.
Guests are not allowed to walk barefoot in the museum.
Cell phones must be turned off or put on silent mode.
Visitors under the age of 12 must be accompanied by an adult.
Guests must keep their masks on at all times.
Visitors are expected to use the bins to throw their waste.
Guests may NOT:
Touch any work of art.
Lean against walls or on the sculptures.
Run in the venue.
Carry drones or other such devices.
Eat or drink in the gallery spaces. They may also not carry along canned drinks, sodas, and alcoholic drinks.
Smoke or vape.
Take pictures using professional equipment, use flash photography, or use selfie sticks.
Do anything that damages the appearance of the walls like writing on it.
Carry metal objects like knives or firearms. Should there be any special conditions, the approval of the Institute Director is required in advance.
Carry along pets, unless it s a guide dog, service dog, or a therapy dog. In all cases, visitors must carry along a certificate issued by doctors belonging to public health services.